Not everyone knows the in's and out's of Facebook especially for those just starting out using the platform to boost their brand awareness. One of the more simpler practices for building brand awareness and advertising your products and services on Facebook is to promote in the groups. If you are new to all this you're probably thinking what groups are they? Well on Facebook there are various groups – Business Community groups where you can promote your products and services, it's really an online directory like Gumtree and other sites except there are over 2 million users on Facebook.
Before promoting yourself in the groups you need to take note of the rules that state the do's and don'ts as some groups are more relaxed than others and may have a strict 1 advertisement per week only rule. The best way to find some groups is to;
Type 'business community' into the Facebook search bar this will generally bring up a list of Business Groups.
Try typing in the suburb this will also list any groups with that suburb name in it.
From your news feed on the Left Hand Side click on 'Groups' under the Explore heading

Here it will list your favourites, groups you manage, groups you're in
Click on the next tab over which is 'Discover'
Along the top you have the option of a few headings as well as groups your friends may be in, local, recent interest, business, buy & sell, professional networking and many others.
Click on the join button to join. Most groups you will need to be approved by an admin first some will accept you straight away.
From time to time you may want to tag your own business in a post or another business so I'll explain how it works. Tagging a business in a post brings that particular post to the attention of the person/business you are tagging. e.g. Someone is asking for a painter and you know of someone and want to bring this post to their attention. You can write you post like you would but include the @theirbusinessname, make sure to leave no spaces when typing it. You can either start to type their business name which will normally bring up a drop down list from you to choose from or if you know their tag you can type that. For instance this is mine below. So as you can see my username (tag) is below the profile picture on my page.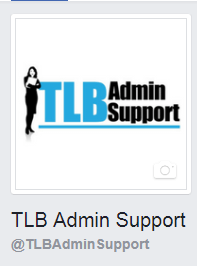 Tagging a business in a post also allows others to click on that tag to take them to that businesses page to have a look.
If you want to put your business page link in the post then you need to type the address which is usually www.facebook.com/tlbadminsupport. You can find this by checking the address bar once on your page.
I hope these facebook tips help you with creating a simple yet effective post next time.